Adobe Premiere Pro
Capture and edit video content for presentations
Ooops
download link is gone
Developer:
Adobe Systems Incorporated
License:
Shareware $19.99
Total downloads:
9,443 (100 last week)
Operating system:
Windows XP/XP Professional/Vista/7/8/10/11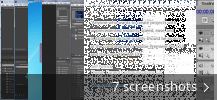 Report incorrect info
Description
Create multimedia presentations by capturing and modifying video content. Select the files and work with the rendered clips to cut, crop, split, and otherwise edit them, integrate separate content into a larger project, etc. Change the color grading and apply multiple presets to visuals.
Adobe Premiere Pro 22.5 that could have been downloaded from our website for free. Adobe Premiere Pro lies within Multimedia Tools, more precisely Editors & Converters. This PC software can work with the following extensions: ".ptl", ".kys" or ".aex".
You can run Adobe Premiere Pro on Windows XP/XP Professional/Vista/7/8/10/11 32 and 64-bit. The actual developer of the software is Adobe Systems Incorporated. The most popular versions of the tool are 14.3, 8.0 and 7.0. Adobe Premiere Pro.exe, Adobe DNG Converter.exe, Enigma Project.exe, Illustrator.exe and ImageReady.exe are the most frequent filenames for this program's installer.
From the developer:
Adobe Premiere Pro is a program that allows you to edit your video content. You can quickly apply rich, beautiful, preset color grades in Adobe Premiere Pro with the Lumetri Deep Color Engine. You can also find and ingest content faster with the improved Media Browser.
You may want to check out more software, such as TMPGEnc Movie Plug-in AVC for Premiere Pro, EZTitles Plug-in for Adobe Premiere or Adobe CS6 American English Speech Analysis Models, which might be similar to Adobe Premiere Pro.
---
How to add text in Adobe Premiere Pro
Select the text element addition tool in the toolset. Place it in the working area and customize the content by typing and selecting fonts.
How to cut video in Adobe Premiere Pro
Select the video clip you wish to cut and place the marker to the place of cutting. Trim or split the file via the context menu.
How to rotate video in Adobe Premiere Pro
Rotate video by selecting the clip and accessing its cropping and panning options. In the menu, select the symbol of rotation and move the image.
---
Used in tutorials
Learn how to create videos directly on your computer from multiple files.
This article will show you how to remove background noise in videos from your Windows PC.
Latest update:
Apps for Mac




Latest updates