Artlantis Studio
Render and edit 3D animations in nreal time
License:
Shareware $1155.58
Total downloads:
3,088 (1 last week)
Operating system:
Windows XP/Vista/7/8/10/11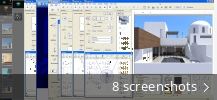 Report incorrect info
Description
Create 3D animations in high resolutions in the application providing advanced editing tools. It is compatible with standard file formats like DXF and DWG, supports 3DS plug-ins and integrates with complex suites. Panoramic image creation is also available.
Downloading Artlantis Studio 7.0.2.2 from the developer's website was possible when we last checked. We cannot confirm if there is a free download of this software available.
According to the results of the Google Safe Browsing check, the developer's site is safe. Despite this, we recommend checking the downloaded files with any free antivirus software. This PC program process the following extension: ".atl".
ArtlantisStudio.exe, runas.exe, InstallArtlantisStudio.exe, ArtlantisStudioexe.exe or Artlantis Batch.exe are the common file names to indicate the Artlantis Studio installer.
This PC software was developed to work on Windows XP, Windows Vista, Windows 7, Windows 8, Windows 10 or Windows 11 and can function on 32 or 64-bit systems. Artlantis Studio lies within Photo & Graphics Tools, more precisely 3D Design. The most popular versions of the tool 7.0, 6.0 and 5.1. This tool was originally created by Abvent R&D.
From the developer:
Artlantis Studio helps you create high-resolution 3D renderings, panoramas, animations, and virtual visits. It is ideal for architects, designers, and urban design professionals for visualizing projects. Artlantis is compatible with models designed using most of the 3D editors.

Support for Twinlinker allows you to create and share virtual visits of your projects online.
You may want to check out more software, such as Artlantis Render, Stylus Studio or Nature Illusion Studio, which might be related to Artlantis Studio.
---
Latest update:
Apps for Mac


Latest updates