Malwarebytes Anti-Malware
License:
Shareware $39.99
Total downloads:
6,714 (12 last week)
Operating system:
Windows XP/Vista/7/8/10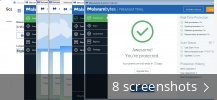 Description
Malwarebytes Anti-Malware 3.3.1.2183 is free to download from our software library. Malwarebytes Anti-Malware relates to Security Tools.
Mbam.exe, mbam-msp.exe, mUjcb8ssa.exe, mwarebytes.exe, roy-chambers.exe, myapp.exe, mytool.exe, m_bam.exe, naranbaatar.exe, mufugga.exe, ms0001.exe, mmmmmm.exe, mmbam.exe, mmapp.exe or mm.exe are the default file names to indicate the Malwarebytes Anti-Malware installer.
Some of Malwarebytes Anti-Malware aliases include "Malwarebytes", "Anti-Malware", "Malwarebyte". You can set up this PC software on Windows XP/Vista/7/8/10 32-bit. This tool was originally designed by Malwarebytes Corporation. The following versions: 2.0, 1.75 and 1.70 are the most frequently downloaded ones by the program users.
Malwarebytes Anti-Malware is a Windows application that protects your computer from various types of malware. The program detects and removes malware like worms, trojans, rogues, spyware, bots, and more. Also, it shields vulnerable systems and software from exploit attacks, stops ransomware attacks before your data is held hostage, prevents access to and from known malicious webpages, removes rootkits and repairs the files they damage, and more.
You may want to check out more software, such as Malwarebytes Anti-Ransomware, Malwarebytes Secure Backup or Malwarebytes Anti-Exploit, which might be related to Malwarebytes Anti-Malware.
---
Used in tutorials
Latest update: