X-Plane
A comprehensive authentic flight simulator
License:
Shareware $59.99
Operating system:
Windows XP/Vista/7/8/10/11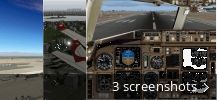 Report incorrect info
Description
Control various aircraft types and complete the takeoff, flight, and landing cycle successfully. Use the realistically recreated controls to maintain altitude and trajectory of movement based on the authentically modeled aeroplane characteristics. View 3D models of all aircraft types.
X-Plane 11.05 is free to download from our software library. Users write reviews saying that the distinct benefits of X-Plane are: there are frequent updates, it has free upgrades, it has good support and is open source. Some users state that the obvious drawback of X-Plane is: it is not user-friendly.
This game is categorized as Games. This program was originally produced by Laminar Research. The size of the latest installation package available is 6.6 MB. The following versions: 9.7, 9.6 and 9.2 are the most frequently downloaded ones by the program users. This PC software was developed to work on Windows XP, Windows 7 or Windows 10 and can function on 32-bit systems. Our antivirus check shows that this download is safe.
The most frequent installer filenames for the software include: X-Plane 552.exe, X-Plane 562.exe, X-Plane 800.exe, X-Plane 805.exe and X-Plane 861-pfc-sept-17.exe etc.
From the developer:
X-Plane is a comprehensive and powerful flight simulator for personal computers.

Main features:
- Aircraft models that stand up to scrutiny, from the gear trucks to the rivets.
- Every aircraft in the fleet comes with a beautiful, usable 3-D cockpit.
- Every 3-D cockpit is usable for instrument flight.
You may want to check out more software, such as FS2XPlane, FSrealWX Pro or Hydroptere v2 The flying boat X-Plane, which might be related to X-Plane.
---
Latest update:
Apps for Mac


Latest updates