Advanced GET
Identifies trading trends, creates trading strategies
Total downloads:
7,505 (34 last week)
Operating system:
Windows XP/Vista/7/8/10/11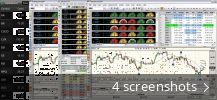 Report incorrect info
Description
Professional trading software that analyzes trading data, identifies current trends and suggests a trading strategy based on this information. Uses 21 indicators for analysis, including bias reversal, Elliott oscillator, Gann angle, JTI, XTL, MOB, PTI.
Downloading Advanced GET 12.1.3756 from the developer's website was possible when we last checked. We cannot confirm if there is a free download of this software available. Advanced GET is suitable for 32-bit versions of Windows XP/Vista/7/8/10/11.
Advanced GET lies within Business Tools, more precisely Investment-Tools. The most popular versions among Advanced GET users are 12.1, 11.4 and 11.0. The most frequent installation filenames for the software include: AdvancedGETEOD.exe, ADGET.exe, Advanced Get EOD.exe, AdvancedGET.exe and GET.exe etc. This program is an intellectual property of eSignal. We cannot guarantee that the program is safe to download as it will be downloaded from the developer's website. Before launching the program, check it with any free antivirus software.
From the developer:
Advance GET is a Forex trading solution that allows you to access powerful trend analysis with Elliott Waves, Fibonacci and Gann tools. You can trade all asset classes using rule-based techniques, quickly identify trends determine entry, exit, support and resistance targets.
You may want to check out more software, such as Advanced Bulk PDF Image Extractor, Advanced Bulk PAD Submitter or Advanced 2 Pages Per Sheet PDF Merger, which might be similar to Advanced GET.
---
Latest update:
Apps for Mac



Latest updates