Automation Studio
Creates a shared environment for engineering projects
Developer:
Famic Technologies Inc.
Total downloads:
13,565 (43 last week)
Operating system:
Windows 2000/XP/Vista/7/8/10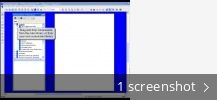 Description
Work on a multi-user engineering projects by establishing a shared working environment between multiple computers connected to the same network. Data sharing and synchronization processes ensure quick updating and editing of the relevant documents, models, and databases. Access rights are configurable.
Our website provides a free download of Automation Studio 6.0. You can run this PC software on Windows 2000/XP/Vista/7/8/10 32 and 64-bit. This software is a product of Famic Technologies Inc. The most popular versions of the tool are 6.0, 5.7 and 5.6.
The program's installer files are generally known as AsProjet.exe, BR.AS.VersionChanger.exe, AutomationStudio.exe, automatio 5.2.exe or automation-studio-6.0.exe etc. Automation Studio lies within Business Tools, more precisely Project Management. This PC program deal with the following extensions: ".pr4", ".pr5" and ".prx".
From the developer:
Automation Studio is a multi-user environment. This allows you to perform collaborative work on a project through data sharing and synchronization between different users. Moreover, thanks to the Access Rights Manager, you can set access restrictions in reading, publishing, etc. Thus, you can safely share your projects, be it with customers, suppliers, and of course your colleagues.
You may want to check out more software, such as QMetry Automation Studio, Automation Studio AR or Automation Studio Educational Edition, which might be similar to Automation Studio.
---
Latest update:
Apps for Mac




Latest updates