Battlefield: Bad Company 2
Total downloads:
1,488 (1 last week)
Operating system:
Windows XP/Vista/7/8/10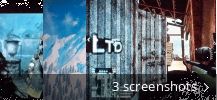 Description
Download Battlefield: Bad Company 2 4.0.21 from our website for free. This PC software was developed to work on Windows XP, Windows Vista, Windows 7, Windows 8 or Windows 10 and can function on 32-bit systems.
The common filenames for the program's installer are BFBC2Game.exe, BFBC2Updater.exe,.exe, BFBC2Gamecrk.exe or BFBC2Game2.exe etc. Some of the program aliases include "Battlefield Bad Company 2 Beta", "EA Battlefield Bad Company 2 - BETA", "Battlefield Bad Company 2 - BETA". Battlefield: Bad Company 2 relates to Games. This software is an intellectual property of EA Digital Illusions CE AB. The most popular versions of the tool are 4.0, 1.2 and 1.0.
From the developer:
Battlefield Bad Company™ 2 brings the spectacular Battlefield gameplay to the forefront of next-gen consoles and PC, featuring best-in-class vehicular combat set across a wide range of huge sandbox maps each with a different tactical focus. New vehicles like the All Terrain Vehicle (ATV) and the UH-60 transport helicopter allow for all-new multiplayer tactics in the warzone. Extensive fine-tuning ensures that this will be the most realistic vehicle combat experience to date. Tactical destruction is taken to new heights with the updated DICE Frostbite engine. Players can now take down entire buildings or create their own vantage points by blasting holes through cover, thereby delivering a unique dynamic experience in every match.
You may want to check out more software, such as Bad Games Timer, NecroVisioN Lost Company or BC2SV, which might be related to Battlefield: Bad Company 2.
---
Latest update:
Apps for Mac


Latest updates