Betting Assistant
by GRuss Software
Total downloads:
7,223 (3 last week)
Operating system:
Windows XP/XP Professional/Vista/7/8/10/11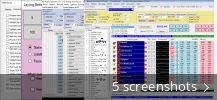 Report incorrect info
Description
Betting Assistant 1.3.0.28 could be downloaded from the developer's website when we last checked. We cannot confirm if there is a free download of this software available.
BA_Launcher.exe, Betting Assistant Betdaq.exe, Betting Assistant.exe, BettingAssistantLauncher.exe and onkar.exe are the most common filenames for this program's installer. The software is included in Home & Hobby Tools.
This PC software was developed to work on Windows XP, Windows XP Professional, Windows Vista, Windows 7, Windows 8, Windows 10 or Windows 11 and can function on 32-bit systems. The most popular versions among the software users are 1.3, 1.1 and 1.0. We cannot guarantee that the program is safe to download as it will be downloaded from the developer's website. Before launching the program, check it with any free antivirus software. The actual developer of the software is GRuss Software.
From the developer:
Betfair Betting Assistant - Betfair software
Betfair Betting Assistant removes a lot of the time-consuming steps between you making a decision to bet, then your money hitting the market.
The one-click system is an alternative interface to the Betfair website enabling you to stay ahead of the game in the in-running markets where speed is of the essence.
You may want to check out more software, such as Betting Assistant For Betdaq, Betdaq Assistant or Bet Angel BETDAQ, which might be similar to Betting Assistant.
---
Latest update:
Apps for Mac


Latest updates