Borland C++
Write and compile legacy as well as new C++ code
Developer:
Embarcadero Technologies, Inc.
Total downloads:
44,533 (661 last week)
Operating system:
Windows XP/Vista/7/8/10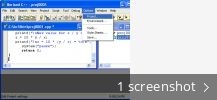 Description
Provides the environment to write your own C++ code and compile it into real-life applications. Works with the 32-bit compiler and includes the latest ANSI/ISO C language support with the already available STL libraries. Import definitions and libraries with the impdef and implib DLLs.
You can download Borland C++ 5.5 from our software library for free. This free PC software can manage the following extensions: ".c", ".h" or ".rc". The most popular versions of the tool 5.5, 5.0 and 1.0. The actual developer of the free program is Embarcadero Technologies, Inc.
The most frequent installer filenames for the software are: bcw.exe, BC5RMV.EXE, Sc1.exe, rundll32.exe and register.exe etc. This free PC software was developed to work on Windows XP, Windows Vista, Windows 7, Windows 8 or Windows 10 and is compatible with 32 or 64-bit systems. This download was checked by our built-in antivirus and was rated as safe. The software belongs to Development Tools.
From the developer:
The Borland C Compiler (BCC) is the foundation and core technology of C Builder 5. Borland C Compiler is a blazingly fast 32-bit optimizing compiler. It includes the latest ANSI/ISO C language support including, the STL (Standard Template Library) framework and C template support and the complete Borland C/C Runtime Library (RTL).
You may want to check out more software, such as Borland® Together, Borland JBuilder or Borland Database Engine, which might be similar to Borland C++.
---
How to use Borland C++ compiler
Open or create a project, then select the code and start the automated compiling process. Preview the result and export the output data.
How to get Borland C++ compiler to work in code blocks
Reset the compiler's settings to default. Select the new destination folder and assign the appropriate parameters, then apply filters to content.
How to install and start Borland C++
Make sure your operating system supports the downloaded version of the compiler. Access the provided archive link and unpack it after downloading.
---
Latest update:
Latest updates