ECM Titanium Management Tools

ECM Titanium Management Tools
Accesses and modifies files stored inside vehicle systems
Total downloads:
4,959 (11 last week)
Operating system:
Windows XP/XP Professional/Vista/7/8/10/11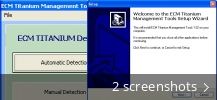 Report incorrect info
Description
Work with the data contained in the files of engine control units and EPROM memory of vehicles and machinery working on Diesel and Petrol fuels to monitor and optimize resource distribution. The utility recognizes naturally-aspirated or turbo-charged types and provides system data adjustment options.
ECM Titanium Management Tools 1.2 was available to download from the developer's website when we last checked. We cannot confirm if there is a free download of this software available. The program is included in Education Tools. This free tool was originally produced by Alientech S.r.l.
You can install this free PC software on Windows XP/XP Professional/Vista/7/8/10/11 32-bit. The following versions: 1.2 and 1.0 are the most frequently downloaded ones by the program users. We recommend checking the downloaded files with any free antivirus. The most frequent installer filenames for the program include: ECM2001.exe, ecm_tools.exe and Titanium.exe etc.
From the developer:
ECM Titanium Management Tools allows you to accurately modify the file stored inside the engine control unit (ECU) memory (EPROM) without any difficulty for Diesel and Petrol, naturally-aspirated or turbo-charged, the software lets you rapidly adjust the maps values (injection, spark-advance, pressure, TURBO) and the limiters saved inside EPROM files.
You may want to check out more software, such as Volume Activation Management Tool, Identity and Access Management Tools and Templates or Fluid Management Tool, which might be similar to ECM Titanium Management Tools.
---
Latest update:
Latest updates