Grand Theft Auto London
Plays the classical GTA game, doing missions and driving cars
License:
Shareware $12.92
Total downloads:
26,893 (20 last week)
Operating system:
Windows XP/Vista/7/8/10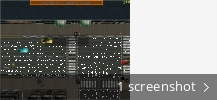 Description
Participates in the London missions, solving quests for the English gangs, driving cars in races, shootouts, buying weapons and running from the police. Fights against cops if cannot escape from them, and even challenges the army. The game can also be peaceful if not doing missions for the mobsters, just driving around the city.
Grand Theft Auto London 1.0.001 can be downloaded from our software library for free. The most recent setup file that can be downloaded is 6.8 MB in size. The actual developer of the software is Rockstar Games, Inc.
The following version: 1.0 is the most frequently downloaded one by the program users. Our antivirus analysis shows that this download is virus free. Grand Theft Auto London was developed to work on Windows XP, Windows Vista, Windows 7, Windows 8 or Windows 10 and is compatible with 32-bit systems. Grand Theft Auto London lies within Games, more precisely Utilities. The most frequent installation filenames for the program include: gta_uk.exe and SETTINGS.EXE etc.
Grand Theft Auto: London, 1969 is a mission pack for Grand Theft Auto, and the second game in the series. London, 1969 was released on 31 March 1999.

Bulleted List of Features

New missions for the classic crime-spree game
Set in swinging London circa 1969
Excellent graphics and music
Requires GTA disc to play
For 1 player
More than 40 cars
Unique map design
Blood and violence
Police chases with several levels of difficulty
Camera view is from right above the player/car
Parks, hundreds of buildings, lots of cars
3DFX compatibility
British music and DJ's

Special Locations

Docks are where you can drive under a crane and let the it take your car for cash.
Phones are used to receive missions.
You may want to check out more software, such as Grand Theft Auto: Episodes From Liberty City, Grand Theft Auto: Vice City Stories PC Edition or Grand Theft Auto: Vice City, which might be related to Grand Theft Auto London.
---
Latest update:
Apps for Mac

Latest updates



Check
our latest
how to articles