HDMI Control Manager
Manage the HDMI connections for computers
Total downloads:
13,825 (23 last week)
Operating system:
Windows XP/XP Professional/Vista/7/8/10/11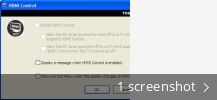 Report incorrect info
Description
Access the system settings and recognize all the available ports for HDMI connections. Work with connected devices and transfer data to establish communications, send signals, etc. Configure the newly detected connections to customize them according to your needs.
HDMI Control Manager 2.0.0.3 can be downloaded from our software library for free. HDMI Control Manager is categorized as System Utilities. The current setup file available for download requires 12.8 MB of hard disk space.
ChangeOutput.exe or HDMICtrlCfg.exe are the common file names to indicate the HDMI Control Manager installer. The actual developer of the free software is TOSHIBA. The most popular versions of the HDMI Control Manager 2.0, 1.9 and 1.8.
HDMI Control Manager was developed to work on Windows XP, Windows XP Professional, Windows Vista, Windows 7, Windows 8, Windows 10 or Windows 11 and can function on 32 or 64-bit systems. Our antivirus analysis shows that this download is malware free.
From the developer:
HDMI Control Manager sits in your tray and manages your HDMI connections. The application will start automatically when you plug an HDMI cable into your laptop then a window will pop-up asking you to configure the newly detected device and configure it properly.
You may want to check out more software, such as SystemTools Remote Control Manager, Control Professional or Home Loan Interest Manager Pro, which might be related to HDMI Control Manager.
---
Latest update:
Apps for Mac



Latest updates