Janus
Generate astrological charts and perform various calculations
Total downloads:
730 (1 last week)
Operating system:
Windows XP/Vista/7/8/10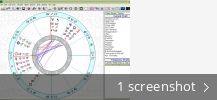 Description
Insert your birth date and calculate the positions of the planets. Generate natal and transit reports, progressed and return charts and get directions on which place to visit. Add asteroids, Arabic parts and stars to wheels and Octoscope and Progressed Solar Return techniques.
You can download Janus 5.3 from our software library for free. This download was scanned by our built-in antivirus and was rated as virus free. The software is included in Home & Hobby Tools. This tool was originally produced by Astrology House.
The following versions: 5.3, 4.3 and 4.2 are the most frequently downloaded ones by the program users. You can launch this PC program on Windows XP/Vista/7/8/10 32-bit. Janus4.exe, Janus.exe, Janus.NorthwindDemo.exe, Janus5.exe and RunAsDate.exe are the most frequent filenames for this program's installer.
From the developer:
Janus has all of the standard calculation features expected of a top of the line astrology software program, including natal and transit reports, astro-mapping, Arabic Parts, fixed stars, progressed charts and return charts. It also has specialist modules for Cosmobiology, Uranian Astrology, Horary, Electional and Medieval Astrology.
You may want to check out more software, such as Janus ASP.NET Server Controls LICENSED, Janus Demo or Windows Forms Controls for Microsoft.NET, which might be similar to Janus.
---
Latest update:
Apps for Mac


Latest updates