KODAK Capture Pro Software

KODAK Capture Pro Software
Manage, edit, share, and view scanned files
Operating system:
Windows XP/7/8/10/11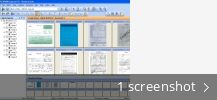 Report incorrect info
Description
Optimize the work of Kodak scanners. Automatically detect compatible devices, quickly initiate, manage, process, and queue scanning requests, assign individual files to printers immediately after the scan, etc. Capture and store related information for management and log keeping.
KODAK Capture Pro Software 5.9.0.17 could be downloaded from the developer's website when we last checked. We cannot confirm if there is a free download of this software available. This program was originally created by EASTMAN KODAK Company.
The latest version of KODAK Capture Pro Software is supported on PCs running Windows XP/7/8/10/11, 32-bit. The program is included in Office Tools. The following versions: 5.1, 5.0 and 4.5 are the most frequently downloaded ones by the program users. Commonly, this program's installer has the following filename: Capture.exe. We recommend checking the downloaded files with any free antivirus.
From the developer:
KODAK Capture Pro Software - a powerful capture application, uniquely designed to optimize the performance of Kodak Scanners. This flexible solution provides the automation and intelligence to help you capture information efficiently and accurately. And make it easily accessible throughout your organization in electronic form.
You may want to check out more software, such as Kodak Capture Pro Software Image Verifier, KODAK Capture Desktop Software or All-Pro Software Tournament Scheduler, which might be similar to KODAK Capture Pro Software.
---
Latest update:
Apps for Mac


Latest updates