Left 4 Dead 2
A first-person cooperative shooter game
License:
Commercial $29.50
Total downloads:
3,757 (1 last week)
Operating system:
Windows XP/Vista/7/8/10/11
Latest version:
26.09.2020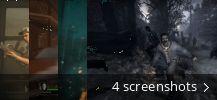 Report incorrect info
Description
Control one of several survivors of the zombie apocalypse and use their unique skills, characteristics, and equipment to travel to safety across several maps and fight of hordes of undead monsters with different traits. The game supports up to four players in the co-op mode.
Left 4 Dead 2 26.09.2020 was available to download from the developer's website when we last checked. We cannot confirm if there is a free download of this software available. The most popular versions of the program 9.3, 8.2 and 7.0. Left 4 Dead 2 relates to Games.
Also the program is known as "Left 4 Dead 2 Demo", "Left 4 Dead 2 FULL", "Left 4 Dead 2 Standalone Patch". Left 4 Dead 2 is compatible with Windows XP/Vista/7/8/10/11 environment, 32-bit version. We recommend checking the downloaded files with any free antivirus. The common filenames for the program's installer are left4dead2.exe, uue.exe, Loader.exe, Left_4_Dead_2.exe or left4dead_launcher.exe etc. This program is a product of Valve.
From the developer:
Set in the zombie apocalypse, Left 4 Dead 2 (L4D2) is the highly anticipated sequel to the award-winning Left 4 Dead, the #1 co-op game of 2008. This co-operative action horror FPS takes you and your friends through the cities, swamps and cemeteries of the Deep South, from Savannah to New Orleans across five expansive campaigns.
You may want to check out more software, such as Dead Disk Doctor, Deadly Sin or Dead Disc Doctor, which might be related to Left 4 Dead 2.
---
Latest update:
Apps for Mac



Latest updates