Operating system:
Windows XP/Vista/7/8/10/11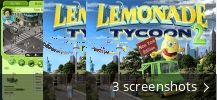 Report incorrect info
Description
Lemonade Tycoon 32.0 was available to download from the developer's website when we last checked. We cannot confirm if there is a free download of this software available. Lemonade Tycoon is sometimes referred to as "Lemonade", "Lemonade Tycoon for Smartphone", "Lemonade Tycoon for Palm".
We cannot guarantee that the program is safe to download as it will be downloaded from the developer's website. Before launching the program, check it with any free antivirus software.
The most frequent installer filenames for the software are: flock.exe, r_lnch.exe, RNArcade.exe, lmt.exe and Lemonade2.exe etc. This tool was originally designed by WildTangent, Inc. Lemonade Tycoon lies within Games, more precisely Simulation. The most popular versions among the software users are 32.0, 4.1 and 4.0. This PC software is suitable for 32-bit versions of Windows XP/Vista/7/8/10/11.
From the developer:
The lemony fresh business continues in the Big Apple! Set up shop with your own lemonade stand and start building your empire. Mix the right recipe, stock up on the right materials, set your price and watch the profits roll in! Make good business decisions with increased cash reserves. Players can move to a higher traffic location, buy a refrigerator, a faster cash register or automatic juicer, and squeeze out the competition!
You may want to check out more software, such as Lemonade Tycoon 2, Lemonade Stand or GoVenture Lemonade Stand, which might be similar to Lemonade Tycoon.
---
Latest update:
Apps for Mac


Latest updates