Microsoft Office Excel
Creates interactive tablets, reports and data sheets
License:
Shareware $69.99
Total downloads:
15,933 (17 last week)
Operating system:
Windows 95/NT Workstation 4.0/98/2000/XP/Vista/7/8/10
Latest version:
16.10.180124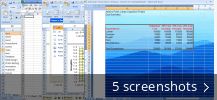 Description
Work with standard documents and export data to the application with the ability to assign calculation formulas and organize numbers into tables and rows to generate calculation systems. Several variables are added to individual cells. Multiple sheets are supported simultaneously.
Microsoft Office Excel 16.10.180124 is available as a free download on our software library. ".xls", ".iqy" and ".xla" are the extensions this PC software can process. The most popular versions of the tool are 15.0, 14.0 and 12.0.
Microsoft Office Excel lies within Office Tools, more precisely Document management. The common filenames for the program's installer are EXCEL.EXE, xlicons.exe, xlvwicon.exe, OIS.EXE or OFFDIAG.EXE etc. This program is a product of Microsoft. Our antivirus analysis shows that this download is safe.
This PC software was developed to work on Windows 95, Windows NT Workstation 4.0, Windows 98, Windows 2000, Windows XP, Windows Vista, Windows 7, Windows 8 or Windows 10 and can function on 32 or 64-bit systems. Also the program is known as "Microsoft Office Excel 2007", "Microsoft Office Excel MUI Polish 2007", "Microsoft Office Excel MUI Greek 2007".
From the developer:
Take your skills to the next level with tables, formulas, formatting and more.

Main features:

- Stay organized with a calendar you can customize
- Create a budget and keep expenses on track
- Create professional looking invoices for your business
- Get organized and stay up to date
You may want to check out more software, such as Update for Microsoft Office Excel 2007 Help KB957242, Security Update for Microsoft Office Excel 2007 KB982308 or Pivot Collection Tool for Microsoft Office Excel, which might be similar to Microsoft Office Excel.
---
How to use Microsoft Office Excell formulas
Create and use multiple formulas for numerical calculations. Equation-building by selecting formulas in the toolset is possible.
How to multiply values in Microsoft Office Excel
Put in variables and values in the Office solution, divide and multiply them. Operations are performed by selecting the relevant actions in the operations menu.
How to lock cells in Microsoft Office Excel
Insert variables, create tables and lock specific cells in the selected sheet. The locking option is enabled by selecting the action in the context menu of the main panel.
---
Used in tutorials
This article with teach you how to easily convert your TXT files to the CSV format.
This guide will teach you how to convert PDF to XML in a few steps.
This tutorial shows the way to convert your Excel spreadsheet files into ICS format using Microsoft Office Excel and the CSV to iCal Calendar Convertor online service.
Latest update:
Apps for Mac




Latest updates