Mystery Legends Sleepy Hollow
Find hidden objects and reveal the mystery of Sleepy Hollow
Total downloads:
950 (6 last week)
Operating system:
Windows XP/Vista/7/8/10/11
Latest version:
9.7.28.5101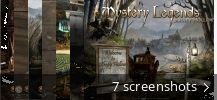 Report incorrect info
Description
Solve puzzles to unveil the mystery of a small town called Sleepy Hollow and stop the Horseman from murdering people. Search for hidden items in multiple scenes and uncover the stories of people living in Sleepy Hollow, including Ichabod Crane and Katrina Van Tassel.
Download of Mystery Legends Sleepy Hollow 9.7.28.5101 was on the developer's website when we last checked. We cannot confirm if there is a free download of this software available. We recommend checking the downloaded files with any free antivirus.
Some of the program aliases include "Mystery Legends - Sleepy Hollow", "Mystery Legends", "MYSTERY LEGENDS - SLEEPY HOLLOW By Dark Devil". The program is included in Games.
Mystery Legends Sleepy Hollow was developed to work on Windows XP, Windows Vista, Windows 7, Windows 8, Windows 10 or Windows 11 and can function on 32-bit systems.
MysteryLegends.exe, GameInstaller.exe, slpstngs.exe, rundll32.exe or rtdnxjr.exe are the default file names to indicate the Mystery Legends Sleepy Hollow installer. This software was originally developed by Big Fish Games. The following versions: 9.7, 9.1 and 3.0 are the most frequently downloaded ones by the program users.
From the developer:
All small towns have their secrets and stories, but none such as Sleepy Hollow, whose legends are most grim and gory. By day a quaint village full of sunshine and banter, by night a place haunted by hoof beats and spectral laughter. Explore Sleepy Hollow as never before, searching for clues into the ancient legend. But beware; each night the Horseman rides, he takes another victim.
You may want to check out more software, such as Mystery Legends: The Phantom of the Opera Collector's Edition, Mystery Legends - Beauty and the Beast or Haunted Legends: The Curse of Vox Collector's Edition, which might be similar to Mystery Legends Sleepy Hollow.
---
Latest update:
Apps for Mac

Latest updates