NCLink
Send NC data to the CNC machine via the RS232 interface
Total downloads:
11,528 (15 last week)
Operating system:
Windows XP/7/8/10/11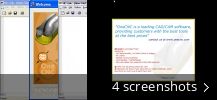 Report incorrect info
Description
Move data for CNC communication from one machine or operating system to another. Edit your NC data and send large piles of information using the RS232 interface. Manage software created in the CAM or on the controller on your computer by placing it next to a CNC machine.
Download of NCLink 4.0 was on the developer's website when we last checked. We cannot confirm if there is a free download of this software available. NCLink was developed to work on Windows XP, Windows 7, Windows 8, Windows 10 or Windows 11 and can function on 32-bit systems.
This program is a product of OneCNC. Commonly, this program's installer has the following filenames: ONCLinkF2k.exe, ONCLinkT2k.exe, rundll32.exe and WinNcLink.exe etc. The program lies within Photo & Graphics Tools, more precisely 3D Design. We recommend checking the downloaded files with any free antivirus. The most popular versions of the program are 4.0, 3.2 and 3.1.
From the developer:
NCLink is a RS232 software for transferring data for CNC communication. The OneCNC NCLink is a 32 bit application so it can run in all 32 bit applications Windows95 Windows Millennium Windows 2000, XP, Vista, and 7; this means you can utilize your older PC's next to your machine to DNC to your machine. You can also network any of these operating systems to your OneCNC CAD-CAM PC which may be far more advanced and that may even be 64 bit.
You may want to check out more software, such as myHouse, V-Ray for 3dsmax R9 for x86 or Alibre Design, which might be related to NCLink.
---
Latest update:
Latest updates