NComputing vSpace
Creates virtualized client-server based desktops
Operating system:
Windows XP/XP Professional/Vista/7
Latest version:
12.3.2.1.609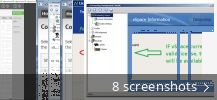 Report incorrect info
Useful tips
Description
Provide multi-user access to a dedicated server by establishing a set of virtual desktops accessible from different devices. The suite divides the resources of a single computer into several virtual workspaces and transfers data independently. Power consumption is optimized optionally.
There was a download of NComputing vSpace 12.3.2.1.609 on the developer's website when we last checked. We cannot confirm if there is a free download of this software available.
The program's installer is commonly called KMREGWIZ.EXE, UpdateWizard.exe, KmMsg.exe, KMUPDATE.EXE or NcConsole.exe etc. According to the results of the Google Safe Browsing check, the developer's site is safe. Despite this, we recommend checking the downloaded files with any free antivirus software. You can run NComputing vSpace on Windows XP/XP Professional/Vista/7 32 and 64-bit. The most popular versions among the program users are 12.3, 8.4 and 7.1. This free program was originally developed by NComputing Inc.
From the developer:
WHY vSPACE PRO ENTERPRISE EDITION?
You have a room or office full of people who all need computers. You could buy them, but that's expensive and boring, at least until they start having issues. Then they're expensive and frustrating.

The smarter approach is to simplify what you deploy and save a bunch of time, money and effort.
You may want to check out more software, such as NComputing vSpace Client or Deep Freeze Server Enterprise, which might be related to NComputing vSpace.
---
How to configure remote access in NComputing vSpace
Create a remote desktop licensing server by automatically inserting the added RDS role. Configure a discovery scope of the license server.
How to update NComputing vSpace
In cases of recent updates, reinstall it over the previous versions of the program. If the versions are too far apart, removal of the older is necessary.
How to register your NComputing vSpace profile
Go to the license management menu in the main interface and activate the code. Make sure all associated access devices are connected to the host PC.
---
Latest update:
Latest updates