NPort Windows Driver Manager


NPort Windows Driver Manager
Add and activate COM ports to connect your devices
Developer:
Moxa Technologies Co., Ltd.
Total downloads:
5,301 (13 last week)
Operating system:
Windows XP/XP Professional/Vista/7/8/10/11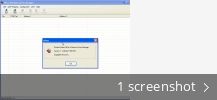 Report incorrect info
Description
Get access to your devices by adding and managing COM ports. Identify NPorts on LAN and view a list of all available options, enable the activation of COM ports and work with them just like with the actual ports. Configure the parameters of the serial port or change the interface using the WEB interface.
Downloading NPort Windows Driver Manager 3.4 from the developer's website was possible when we last checked. We cannot confirm if there is a free download of this software available. The program's installer is commonly called Npcom.exe.
NPort Windows Driver Manager lies within System Utilities, more precisely Device Assistants. We cannot guarantee that the program is safe to download as it will be downloaded from the developer's website. Before launching the program, check it with any free antivirus software.
This free software is an intellectual property of Moxa Technologies Co., Ltd. This free PC software is developed for Windows XP/XP Professional/Vista/7/8/10/11 environment, 32-bit version. The most popular versions among NPort Windows Driver Manager users are 3.1, 1.8 and 1.1.
From the developer:
NPort Windows Driver Manager provides you the easiest way to add COM ports to access your devices. You need to configure the operation mode of NPort serial port to "Drvier/Real COM" mode first. The driver manager will send the broadcast packet to seach NPort servers on LAN and list out the result. The checkboxes on the left means the server which you want the newly added COM ports to map.
You may want to check out more software, such as Samsung Drive Manager, Drive Manager or Network Drive Manager, which might be similar to NPort Windows Driver Manager.
---
Latest update:
Apps for Mac



Latest updates