One Man Band
Plays, edits and recordss digital music
License:
Shareware $49.95
Total downloads:
13,007 (31 last week)
Operating system:
Windows XP/7/8/10
Latest version:
12.2.0.699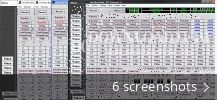 Description
Create custom audio tracks by playing the virtual music-keyboard with automatic-accompaniment designed after Yamaha PSR, DGX, etc. The utility provides a set of options for composing and recording accompanying sequences along with the live recording of custom playing sessions.
Our software library provides a free download of One Man Band 12.2.0.699. This download was scanned by our built-in antivirus and was rated as safe. This program is an intellectual property of JM Software. The most popular versions among the program users are 11.0, 10.3 and 10.1.
The latest version of One Man Band can be downloaded for PCs running Windows XP/7/8/10, 32-bit. The current setup file available for download requires 2.8 MB of hard disk space. The software is included in Multimedia Tools. The program's installer is commonly called omb.exe, keyboar clarence bah.exe, Kibo.exe, One Man Band V.10.exe or One Man Band V10 Registration Key.exe etc.
From the developer:
One Man Band is a combination of a virtual music-keyboard with automatic-accompaniment, a sequencer that utilises styles and a style editor. It utilises standard style files that are compatible with the styles that are used in Yamaha PSR, DGX and Tyros arranger keyboards. It is able to play the thousands of Yamaha styles that are available on internet and it can create styles that can be played on a Yamaha keyboard.
You may want to check out more software, such as One Man Band Originals, Garritan Concert and Marching Band or Ninjabread Man, which might be similar to One Man Band.
---
Latest update:
Apps for Mac



Latest updates