PREPS Imposition Software

PREPS Imposition Software
Creates, modifies and manages impositions
Total downloads:
13,884 (29 last week)
Operating system:
Windows XP/Vista/7/8/10/11
Latest version:
8.2.0.3028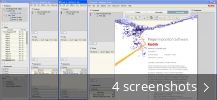 Report incorrect info
Description
Work with projects incorporating impositions for producing and managing press sheets used for different tasks. The suite enables generation and customization of imposition projects with options to accelerate and automate dimension and shape formation.
PREPS Imposition Software 8.2.0.3028 was available to download from the developer's website when we last checked. We cannot confirm if there is a free download of this software available. The actual developer of the software is kodak. The program is categorized as Office Tools.
We cannot guarantee that the program is safe to download as it will be downloaded from the developer's website. Before launching the program, check it with any free antivirus software. The tool is sometimes referred to as "Preps", "Preps Demo".
PREPS Imposition Software can be installed on 32-bit versions of Windows XP/Vista/7/8/10/11. PPD Browser.exe, Preps7.exe, Preps6.exe, Preps53.exe or Preps52Demo.exe are the frequent file names to indicate the PREPS Imposition Software installer. This PC software can handle the following extensions: ".tpl" or ".job". The following versions: 8.1, 7.1 and 7.0 are the most frequently downloaded ones by the program users.
From the developer:
REPS Imposition Software is a program that produces faster, more accurate impositions that maximize press sheet usage.
You may want to check out more software, such as PDF Imposition DE, GREatest Quant Prep or MP3 Cutter by Aiv Software, which might be related to PREPS Imposition Software.
---
Latest update:
Apps for Mac


Latest updates