Operating system:
Windows XP/Vista/7/8/10/11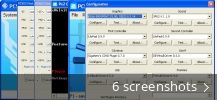 Report incorrect info
Description
Pcsx2 is an amazing piece of software that allows you to emulate the original Playstation 2 on your PC. It offers a wide range of features and customization options, allowing you to make the experience as close to the original as possible. The controls are easy to use, either with a keyboard and mouse or a gamepad, and the built-in video recorder makes it easy to capture your gaming activity. The resolution can also be adjusted to suit your needs. It's an excellent way to play classic PS2 games on your PC. Highly recommended!
Download Pcsx2 1.6.0 from our website for free. Commonly, this program's installer has the following filenames: pcsx2 0.9.6.exe, pcsx2.exe, pcsx2-r4600.exe, _1EEFFF72773535163E4216.exe and PCSX2SP.exe etc.
The latest version of the program can be downloaded for PCs running Windows XP/Vista/7/8/10/11, 32-bit. Also the tool is known as "Pcsx2 Watermoose", "PCSX2 R3", "Pcsx2 Watermoose 64bit". This free software is a product of Pcsx2 Team. The most popular versions among the software users are 1.6, 1.0 and 0.9. Pcsx2 belongs to Games.
From the developer:
PCSX2 is a Playstation 2 'emulator', a free program that tries to replicate the Playstation 2 console to enable you to play PS2 games on your PC.
You may want to check out more software, such as CheMax, GameSpy Comrade or abgx360, which might be similar to Pcsx2.
---
Latest update:
Apps for Mac

Latest updates