RStudio
Provides solutions for plotting, history, debugging and workspace management
Total downloads:
750 (4 last week)
Operating system:
Windows XP/XP Professional/Vista/7/8/10/11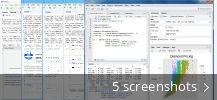 Report incorrect info
Description
Offers syntax highlighting, code completion, and smart indentation. It comes packed with an interactive debugger to diagnose and fix errors quickly also integrated R help and documentation. Using it you can manage multiple working directories using projects.
Download of RStudio 1.4.1717 was on the developer's website when we last checked. We cannot confirm if there is a free download of this software available.
Rstudio.exe, Icon4440796E.exe, Icon804DC319.exe, IconBEDEE4C0.exe or IconF4B8BDD1.exe are the frequent file names to indicate the RStudio installer. The following versions: 1.3, 1.1 and 1.0 are the most frequently downloaded ones by the program users.
We recommend checking the downloaded files with any free antivirus. RStudio lies within Development Tools, more precisely IDE. The actual developer of the free program is RStudio. This PC program is suitable for 32-bit and 64-bit versions of Windows XP/XP Professional/Vista/7/8/10/11.
From the developer:
RStudio is an integrated development environment (IDE) for R. It includes a console, syntax-highlighting editor that supports direct code execution, as well as tools for plotting, history, debugging and workspace management.
You may want to check out more software, such as R-Studio, R-Studio NTFS or R-Studio Emergency Startup Media Creator, which might be related to RStudio.
---
Latest update:
Apps for Mac

Latest updates