SoMachine
Configures, develops and commissions machine software
Total downloads:
7,709 (1 last week)
Operating system:
Windows XP/Vista/7/8/10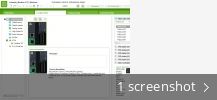 Report incorrect info
Description
Develop projects for machine controls and assign specific functions by creating software components for controllers and entires setups. The suite features tools for adjusting basic templates of software components to the type of machine of generating new ones.
Downloading SoMachine 4.1 from the developer's website was possible when we last checked. We cannot confirm if there is a free download of this software available. SoMachine is developed for Windows XP/Vista/7/8/10 environment, 32-bit version.
The following versions: 4.1, 3.1 and 3.0 are the most frequently downloaded ones by the program users. We cannot guarantee that the program is safe to download as it will be downloaded from the developer's website. Before launching the program, check it with any free antivirus software. SoMachine.exe, Central.exe and USBMassStorage.exe are the most frequent filenames for this program's installer. This tool was originally designed by Schneider Electric. The software is categorized as Development Tools.
From the developer:
SoMachine is a program for developing, configuring, and commissioning the entire machine. You can replace a controller with another one, while retaining the logic and the configuration. Several versions of SoMachine can run in parallel in a system to help ensure compatibility. As soon as the machine starts working SoMachine provides you with all relevant diagnostics data on PC, HMI or even on your mobile device
You may want to check out more software, such as LXM28 DTM Library, which might be similar to SoMachine.
---
Latest update:
Latest updates