Subsea Relic
Explore the ocean, avoid enemy creatures, and find treasure
Operating system:
Windows XP/XP Professional/Vista/7/8/10/11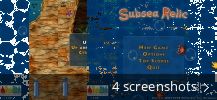 Report incorrect info
Description
Set on underwater adventures with Kenny who discovered a pirate chest with an ancient crystal stolen by pirates a long time ago. Explore the ocean to find all missing treasure pieces and the parts of the artifact. Avoid various underwater creatures, like crabs, octopuses, and swordfish.
Downloading Subsea Relic 1.20 from the developer's website was possible when we last checked. We cannot confirm if there is a free download of this software available.
Subsea Relic.exe, game.exe, play.exe, PreLoader.exe or Rennang.exe are the frequent file names to indicate this program's installer. The following versions: 1.20, 1.3 and 1.2 are the most frequently downloaded ones by the program users.
This free PC program can be installed on Windows XP/XP Professional/Vista/7/8/10/11 environment, 32-bit version. Subsea Relic lies within Games, more precisely Adventure. The actual developer of the free software is MyPlayCity, Inc. We cannot guarantee that the program is safe to download as it will be downloaded from the developer's website. Before launching the program, check it with any free antivirus software.
From the developer:
Subsea is a great adventure and arcade game. The story of this game will introduce you to a fun game and challenge. Kenny finds a pirate chest with an ancient artifact, his grand father told him a story about how Pirates stole this artifact many years ago.
You may want to check out more software, such as New Relic Server Monitor, WASEO's Subsea Screensaver or Relics of Fate - A Penny Macey Mystery, which might be similar to Subsea Relic.
---
Latest update:
Apps for Mac



Latest updates