The T-Pain Effect
Adjusts pitch and tunes vocal audio tracks
Ooops
download link is gone
Total downloads:
12,059 (8 last week)
Operating system:
Windows Vista/7/8/10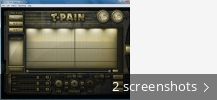 Description
Enrich the toolsets of such programs as GarageBand, Logic, Pro Tools, SONAR and others by adding the function for detailed pitch shifting and adjustment. The add-on supports multiple templates for particular voice transformations, including the one modeled after T-Pain.
Our website provides a free download of The T-Pain Effect 1.02. The actual developer of the software is iZotope, Inc. The T-Pain Effect is categorized as Multimedia Tools. The following version: 1.0 is the most frequently downloaded one by the program users. This PC program was developed to work on Windows Vista, Windows 7, Windows 8 or Windows 10 and can function on 32-bit systems.
From the developer:
The T-Pain Effect it is compatible with popular music hosts like GarageBand, Logic, Pro Tools, SONAR, and many more. Use it for subtle pitch correction or wild vocal transformations, including the distinctive sound of T-Pain himself. You can use it for customize the sound and adjust the intensity.
You may want to check out more software, such as Effective Notes Free, Effective Organizer Free or Effective Organizer Professional, which might be related to The T-Pain Effect.
---
How to include The T-Pain Effect autotune into programs
The T-Pain Effect can serve as an extension for audio editors. It provides autotune features in the instrument panels of the applications.
How to record voiсe using a microphone with The T-Pain Effect
Connect the microphone and use the program for live recording. Set the desired pitch correction parameters and record the audio.
How to enable the The T-Pain Effect
Select or record an audio file. Access the pitch and tempo settings manually or set up an automated profile for tuning the output.
---
Latest update:
Apps for Mac


Latest updates