WolfQuest
An adventure game focused on the life of a wolf
Developer:
Minnesota Zoo & Eduweb
Total downloads:
10,588 (6 last week)
Operating system:
Windows 2000/XP/Vista/7/8/10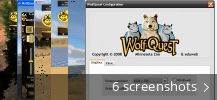 Description
Play as a two-year-old wolf living in the Northern Range of Yellowstone National Park. Learn the basics of survival on your own, explore various locations, interact with other animals, hunt and feed, etc. Visit different places in different seasons while following your own story.
You can download WolfQuest 4.7.0 from our software library for free. The most popular versions among WolfQuest users are 4.7, 2.7 and 2.6. This program was originally produced by Minnesota Zoo & Eduweb.
The WolfQuest installer is commonly called WolfQuest.exe, UnityDomainLoad.exe, WolfQuest-FreeTrial.exe, WolfQuest-Win.exe or WolfQuestAE.exe etc. WolfQuest lies within Games, more precisely Roleplay. This PC software can be installed on Windows 2000/XP/Vista/7/8/10 environment, 32-bit version. Our antivirus scan shows that this download is virus free.
From the developer:
In this game you are a two-year-old gray wolf, born in the Northern Range of Yellowstone National Park, that has learned the ways of the wolf in your birth pack. Now it's time for you to learn how to live on your own, finding food, meeting other wolves, and searching for a mate.

Your quest begins on the slopes of Amethyst Mountain and eventually takes you across the Lamar Valley to Slough Creek.
You may want to check out more software, such as Ragnarok Online, CABAL Online or Lineage II, which might be similar to WolfQuest.
---
Latest update:
Apps for Mac

Latest updates