How to fix DLL Not Found errors
You've just downloaded and installed a program or game you've been waiting for a long time, launched it, and immediately encountered a DLL error. This type of problems is quite common, so almost anyone who owns a Windows PC has probably run into this issue.
It's best you head to the Google page in your default web browser before trying to fix your errors. Enter details to describe the issue you've encountered on your Windows PC and find out if the problems are DLL error-related or not.
Here is a list of DLL files that may be missing:

1. D3dx9_43.dll
2. Xinput1_3.dll
3. MSVCP100.dll
4. Kernel32.dll
5. Ntdll.dll
6. Mingwm10.dll

DLL errors can be encountered in most Windows versions. There is a wide variety of DLL errors, so this guide won't teach you how to get rid of a certain DLL error. A good thing to do is to go to this website and find detailed information about the error you're dealing with and then check out this article.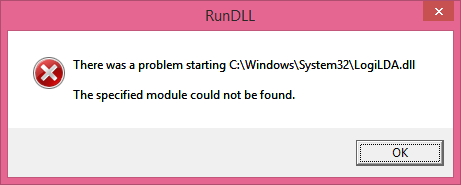 DLL Error Sample
I will show you how to fix DLL Not Found errors by using 3 different methods. There's no guarantee your problems will be solved, but it's worth a try before contacting a member of a support team for assistance. The 3 fixing methods are: Reinstall the application in question from scratch, Use System Restore tool, and Utilize a file recovery program to restore DLL files.
Reinstalling the application from scratch
If you cannot launch or use a program on your Windows PC because of a missing DLL file, then reinstalling the application in question might be the quick solution to the problem. Here's what you need to do in order to reinstall a utility on your computer:
Step 1
Launch the Programs And Features utility on your computer. You can do that from the Control Panel program on PCs with versions older than Windows 8. If you're working on Windows 8 or 10, click the Start button from the bottom left side of your desktop, hit the Win+X keys, and select the Programs And Features app from the given list.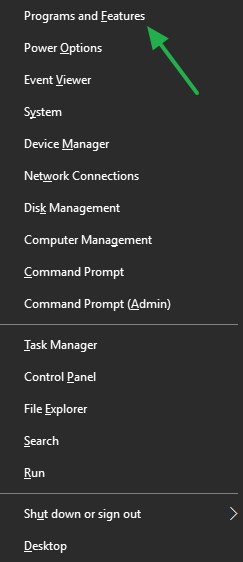 Accessing Programs And Features
Step 2
Find the application you wish to uninstall from your PC. You can use the search tool located on the upper-right side of the interface or look through the programs list. Select the utility in question and click the "Uninstall" button.
Step 3
Restart your computer. This is usually done to make sure that the program is completely removed from your PC.
Step 4
Go to the Programs And Features tool again and check if the app you uninstalled is still there. It's also a good idea to head to the home directory of the program in question to find out if there are any leftover files. If so, delete them.
Step 5
Download and install the application again.
It's best you download the latest version of the program in question, directly from the homepage of the developer.
Step 6
Restart your PC. Check if the reinstalled application is working.
Using System Restore utility
Using the System Restore tool is one of the best solutions for fixing almost any type of system-related issues. Briefly, the application helps you return to a previous registry and driver configuration identified as a restore point. It basically lets you undo system-related changes.
The interval of time for the System Restore utility to undo your changes is between 10 and 30 minutes.
Here's what you need to do in order to use the System Restore tool to fix DLL Not Found errors:
Step 1
Launch the Control Panel app. Go to System And Security -> System -> System Protection (on the left side of the window).
Step 2
Go to the System Protection panel and press the "System Restore" button.
Step 3
Select the preferred restore point from the list and click the "Next" button.

Selecting System Restore Point
Step 4
Confirm the restore point and click the "Finish" button. Wait while your Windows files and configurations are restored. Afterwards, your computer will restart.
Step 5
Check if you're still encountering the DLL Not Found error.
Utilizing a file recovery program to restore DLL files
A possible reason for dealing with DLL Not Found errors is that you've accidentally deleted them from your Windows PC. One way to fix that is by using file recovery tools to restore the lost DLL files on your computer. I will show you how to recover your data by using a popular and free Windows tool that's specialized in restoring lost files: Recuva.
Check if the DLL files aren't in the Recycle Bin utility before using Recuva or other file recovery tools on your computer. There's a small chance the files in question might be there.
Tutorial assets
You will need to download and install the following application in order to keep up with this guide.
Here's what you need to do in order to recover deleted DLL files on your PC:
Step 1
Download and install the Recuva program on your PC. Launch the utility.
Step 2
Select the types of files you wish to recover. In this case, it's best you choose the "All Files" option to make sure the app offers you the results you need. Click the "Next" button.

Selecting File Type In Recuva
Step 3
Choose the drive containing the application missing a DLL file. Click the "Next" button.
Optional: Enable the "Deep Scan" option if previous scans failed to locate the deleted DLL files.
Step 4
Click the "Start" button.
Step 5
Choose the files you wish to restore and click the "Recover" button from the bottom-right side of the window.
Conclusion
Even though there's no guarantee any of these 3 methods will work for you, it's still a great idea to give them a try. You might be able to easily fix DLL Not Found errors without getting help from a support team and having to pay for their services.
Alternative downloads
Recuva Data Recovery

free

windows

Powerful program that recovers files deleted from your Windows computer...

Download
RegistryEasy

windows

Award-winning Windows Registry Cleaner that scans your PC and safely cleans errors & invalid entries that cause system slowdowns...

Download