Farming Simulator 2011
A simulation game about running a farm homestead
License:
Commercial $29.99
Total downloads:
4,183 (1 last week)
Operating system:
Windows XP/Vista/7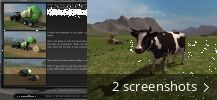 Report incorrect info
Description
Control the farmer trying to maintain his household and profit from growing crops and animals. Breed cattle and complete multiple maintenance and development tasks. Manage the growth of weeds and crops, process manure, collect resources and trade them for equipment.
Farming Simulator 2011 1.02 was available to download from the developer's website when we last checked. We cannot confirm if there is a free download of this software available.
RZR1OMR.exe, autorun.exe, FarmingSimulator2009.exe, FarmingSimulator2011.exe or FarmingSimulator2013Game.exe are the frequent file names to indicate this program's installer. This PC program is compatible with Windows XP/Vista/7 environment, 32-bit version.
Farming Simulator 2011 is included in Games. We cannot guarantee that the program is safe to download as it will be downloaded from the developer's website. Before launching the program, check it with any free antivirus software. This program was originally developed by GIANTS Software. The following versions: 4.1 and 1.0 are the most frequently downloaded ones by the program users.
From the developer:
The latest version of the best-selling "Farming Simulator" contains plenty of new features and improvements.

Now it's possible to breed cattle completing a variety of tasks such as feeding the cows or spreading the dung and liquid manure on the fields. By selling the produced milk to the local dairy you earn additional money for your farm.
You may want to check out more software, such as Farming-Simulator 2009, Farming Simulator 2013 or Farming Simulator Classic, which might be related to Farming Simulator 2011.
---
Latest update:
Apps for Mac

Latest updates