Operating system:
Windows XP/Vista/7/8/10/11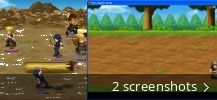 Report incorrect info
Description
Hero Fighter 0.7 was available to download from the developer's website when we last checked. We cannot confirm if there is a free download of this software available. Hero Fighter lies within Games, more precisely Arcade.
This free software is an intellectual property of Martial Studio Ltd. The Hero Fighter installer is commonly called HF.exe, Hero Fighter.exe, HeroFighterToolbar.exe, HFeyd.exe or HFT.exe etc.
This free PC software was developed to work on Windows XP, Windows Vista, Windows 7, Windows 8, Windows 10 or Windows 11 and is compatible with 32-bit systems. The most popular versions among the program users are 0.7, 0.6 and 0.5. According to the results of the Google Safe Browsing check, the developer's site is safe. Despite this, we recommend checking the downloaded files with any free antivirus software.
From the developer:
Hero Fighter is a free fighting game for PC. This is similar to the games found in consoles such as Nintendo. You can change the number of objects or difficulty setting. The game supports up to 3 human players playing in the same computer (network gaming is not supported). At current version, Hero Fighter has VS mode only. The developer plans to include network gameplay and newer fighting modes in the later versions.
You may want to check out more software, such as Heroes & Generals, Heroes Of Yggdrasil or Gunstar Heroes, which might be related to Hero Fighter.
---
Latest update:
Apps for Mac




Latest updates