Microsoft Office Word
Creates, edits, prints and shares documents
License:
Shareware $149.99
Total downloads:
30,410 (14 last week)
Operating system:
Windows 95/98/2000/XP/Vista/7/8/10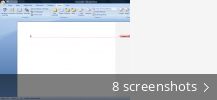 Description
Microsoft Office Word is mentioned in top word processing tools 2020 for Windows
Generate files in DOC and DOCX formats, write texts, select fonts, colors and page parameters, add standard graphs and diagrams, import images, etc. Multiple languages are supported along with dedicated spellchecking. Sending files to printing is possible.
Our website provides a free download of Microsoft Office Word 16.0. The program lies within Office Tools, more precisely Document management. The actual developer of the program is Microsoft. Also the program is known as "Microsoft Word", "Microsoft Office Word 2007", "Word".
This PC program works with ".dot", ".pdt" and ".psw" files. You can execute this PC software on Windows 95/98/2000/XP/Vista/7/8/10 32 and 64-bit. Our built-in antivirus checked this download and rated it as 100% safe. The following versions: 16.0, 15.0 and 14.0 are the most frequently downloaded ones by the program users. The default filenames for the program's installer are WINWORD.EXE, MSPAINT.EXE, PenPaper.exe, PolyglotWord.exe or Portable_Atlantis.exe etc.
From the developer:
Microsoft Office Word is a program that allows you to create documents. It includes tools for the creation of tables, word arts, charts, etc. You can insert various shapes, images, flow-diagrams, and clip-arts to your document. Cross-referencing allows you to manage a list of references, or a numbered list of illustrations and tables.
You may want to check out more software, such as Update for Microsoft Office Word 2007 Help, Security Update for Microsoft Office Word 2007 KB969604 or Open XML SDK Productivity Tool CTP for Microsoft Office, which might be related to Microsoft Office Word.
---
How to delete a page in Microsoft Office Word
Delete a page by selecting its content and deleting manually. Another way is going to the preview mode and selecting it for removal. Excluding the page from printing is possible.
How to rotate a page in Microsoft Office Word
Rotate the page by selecting it or the entire document and accessing the parameters and selecting book orientation. Text rotation is also possible.
How to change line spacing in Microsoft Office Word
Change line spacing by selecting the text and using a context menu. Setting the desired spacing via numerical representation in the main panel is possible.
---
Used in tutorials
This guide will show you how to convert a scanned document to a format that's compatible with the Microsoft Word.
The following guide will show you to how to open and edit VNT memo files on your PC.
Latest update:
Apps for Mac




Latest updates