QM for Windows
Runs mathematical analysis in all kinds of data
Total downloads:
112,345 (1,254 last week)
Operating system:
Windows XP/Vista/7/8/10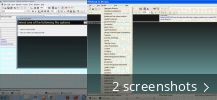 Description
Calculate the required values of data compiled and imported to the dedicated suite performing mathematical analysis for such activities as operations management, quantitative methods of research management. It supports PERT/CPM, linear programming, decision analysis, transportation problem, etc.
The 5.2 version of QM for Windows is available as a free download on our software library. This free software is a product of Prentice-Hall Inc. This free PC software was developed to work on Windows XP, Windows Vista, Windows 7, Windows 8 or Windows 10 and can function on 32-bit systems.
The latest installation package takes up 13 MB on disk. The following versions: 3.2, 3.0 and 2.1 are the most frequently downloaded ones by the program users. Qm32Start.exe, qm4start.exe, qm3start.exe and qmnetworkctrl.exe are the most frequent filenames for this program's installer. Some of the program aliases include "QM for Windows Version 2", "QM for Windows Version 3". The program lies within Education Tools, more precisely Science Tools.
From the developer:
QM for Windows provides mathematical analysis for Operations Management, Quantitative methods, or Management Science. It features calculation methods for PERT/CPM, Linear Programming, Decision Analysis, Transportation problem, Statistical functions, Game Theory, Goal Programming, etc.
You may want to check out more software, such as Windows Logon Notifier, Windows 8 UX Pack or Windows Data Recovery Utility, which might be related to QM for Windows.
---
How to install Excel QM for Windows
Check the compatibility of the program's version with the installed Office version. Enable the extension in the Excel settings and access the features.
How to use QM for Windows for linear programming
Set up the application for linear programming and access the input data. manage it according to the goals of the project and save the results for export.
How to select formats in QM for Windows
Access the settings, then go to the format menu to set the default one. Check the compatibility of the imported files and save the finished work project.
---
Latest update:
Latest updates