SolidWorks
Organizes data and makes it accessible across many departments
Ooops
download link is gone
Developer:
SolidWorks Corporation
Total downloads:
27,083 (4 last week)
Operating system:
Windows XP/Vista/7/8/10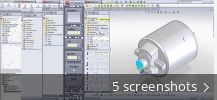 Useful tips
Description
Provides simulation tools for testing ideas in a virtual environment for gaining insight into potential performance and durability, handy for designers and engineers. Also it will capture non-electronic data and complex electronic data, such as 3D shapes, when needed.
SolidWorks 23.0 can be downloaded from our website for free. The most frequent installation filenames for the program include: SLDWORKS.exe, pdmwVaultAdmin.exe, SWViewer.exe, swspmanager.exe and swScheduler.exe etc. This software was originally produced by SolidWorks Corporation.
This PC program deals with ".asm", ".drw" and ".prt" files. The most popular versions among the program users are 23.0, 22.1 and 20.2. Also the program is known as "SolidWorks 2001", "SolidWorks 2003", "SolidWorks 2000". SolidWorks is categorized as Photo & Graphics Tools. The latest version of the program can be downloaded for PCs running Windows XP/Vista/7/8/10, both 32 and 64-bit.
From the developer:
SolidWorks is a program that provides enhanced engineering and design performances that help you get your work done faster and easier. You can manage product structures up front, access information everywhere and document designs for manufacture and assembly. You can also create detailed inspection reports for QA, calculate product costs as you design and print directly to 3D printers.
You may want to check out more software, such as SolidWorks Explorer, SolidWorks Viewer or SOLIDWORKS Visualize, which might be related to SolidWorks.
---
How to scale a part in SolidWorks
You can scale parts about their centroid, origin, or coordinate system by selecting the action in the menu. View the scaled image in the view window.
How to change material in Solid Works
Assign material to the part by picking a material from a material library. Change the assigned material by selecting another one for the relevant object.
How to change units in SolidWorks
There is a pull-up menu that lists the units currently selected in the project. Opening that menu will bring up all the available options.
---
Latest update:
Latest updates