Vol-FCR
Scan your Volvo cars for errors and get rid of fault codes
Total downloads:
1,849 (1 last week)
Operating system:
Windows XP/Vista/7/8/10/11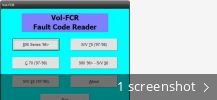 Report incorrect info
Description
Perform diagnostics of Volvo vehicles built from 1995 to 2001. View and eliminate different fault codes concerning the engine, airbag, abs, instruments, immobilizer, etc. The solution supports a wide range of models, including 850, C70, S40, V40, S70, V70, 940, 960, S90, V90 cars, and works with the K-Line adapter.
Downloading Vol-FCR 1.7.6 from the developer's website was possible when we last checked. We cannot confirm if there is a free download of this software available. The most popular versions among the program users are 1.7 and 1.3. The actual developer of the software is ilexa.
The program relates to System Utilities. You can set up this PC program on Windows XP/Vista/7/8/10/11 32-bit. We recommend checking the downloaded files with any free antivirus. The common filenames for the program's installer are Vol-FCR Demo FTDI USB.exe, Vol-FCR Demo VAG USB.exe, Vol-FCR Demo.exe, Vol-FCR FTDI USB.exe or Vol-FCR VAG USB.exe etc.
From the developer:
PC based code reader and live data scan tool for Volvo cars including 800 Series, C70, S40, V40, S70, V70, 900 series, S90 and V90.
This PC / Laptop based tool covers most pre-2000 models and reads and clears fault codes on almost all modules fitted including engine managment, airbag, abs, instruments, immobiliser etc.
You may want to check out more software, such as Philips Device Manager, EasyGPRS or ThinkPad-Konfiguration, which might be similar to Vol-FCR.
---
Latest update:
Latest updates