How to send text messages from PC using SideSync
Sending text messages to a smartphone from your Windows PC is a lot quicker and easier than doing it from a mobile phone with a small screen and keypad. For this reason, dozens of Windows programs were created: to provide you with a faster alternative to sending text messages to mobile phones. This type of utilities might also come in handy while you're at the office and you're tired of constantly switching from your desktop mouse and keyboard to your device to reply to various text messages.
One example comes from the SideSync tool, a program created by the Samsung company. This mirroring utility is compatible with various smartphone and tablet models from Samsung, provides you with a quick way to transfer data between your media device and your computer, and enables you to complete multiple types of tasks like you would normally do from the gadget in question. But what is the SideSync's strongest point? In my opinion, the answer is its capability to accurately share the screen and data between your PC and mobile device without you dealing with advanced settings configurations.
In a previous article, we showed you how to take full control of your Android phone from a PC. In this guide, I will teach you how to send text messages from your Windows computer by using the SideSync utility. In this demonstration, I used a Samsung Galaxy A5 phone.
Tutorial assets
You will need to download the following software to follow along with this tutorial.
Step 1
Download SideSync from the homepage of the developer and install it on your PC. Install the Android version of the tool on your Samsung phone or tablet.
Step 2
Launch the program on your computer. Select the preferred connection profile and grant access to the tool from your Samsung gadget. You can connect tablets or phones to computers via Wi-Fi or USB cable.

SideSync Connection Window
Step 3
SideSync will immediately mirror the screen of the connected media gadgets onto your monitor. Now, from the virtual device screen that's on your PC monitor, go to Apps -> Messages -> Composes (like you would normally do from your media device). Enter the recipient info, write the text message, and click the "Send" button.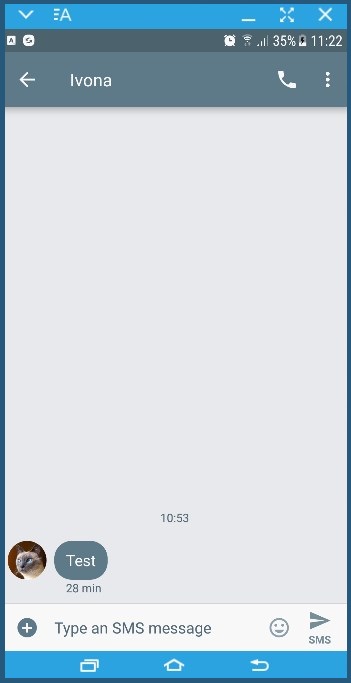 Sending Text Message With SideSync
Optional: You can also use SideSync to make calls from your computer, transfer files between your PC and your media gadget, and use any of the installed Android applications.
Conclusion
As you can see, it's very simple to send text messages from your PC with SideSync. However, if you're using a smartphone from a manufacturer different from Samsung, then you should try programs like AirDroid, ASUS PC Link or Android Control. So, which of the aforementioned tools will you choose for sending text messages from your PC? Let us know in the comments section below.
Alternative downloads