How to modify your voice on Skype
In a previous article, I showed you how to record your Skype conversations. But what if you want to prank someone and record the conversation for posterity or for sharing on YouTube? A good idea for making sure your victim falls into your trap is to alter your voice for the chat. In this guide, I will teach you how to change your voice on Skype. I will use Voicemod, a Windows utility that not only helps you complete the aforementioned task on Skype, but it can also modify your voice while playing games like Minecraft or League of Legends, using other chat tools like Discord, etc.
Here's what you need to do in order to alter your voice on Skype:
Step 1
Launch Voicemod on your PC and configure its settings according to your needs. As you can see in the following snapshot, it's best you select your headphones as your default output device for quality experiences.

Configuring Voicemod Settings
Step 2
Select the preferred voice effect. The program gives you access to several effects for free, but you can acquire extra profiles by upgrading Voicemod to its Pro version. You can see how it works before starting your Skype conversation. Simply enable the "Hear my voice" and "Voice changer" options from the bottom of the screen, choose a voice profile and start talking.

Voicemod Main Window
Step 3
Launch Skype on your computer. Go to its main menu -> Call -> Audio Settings. Select the Microphone and Speakers devices that have "Voicemod" in their description.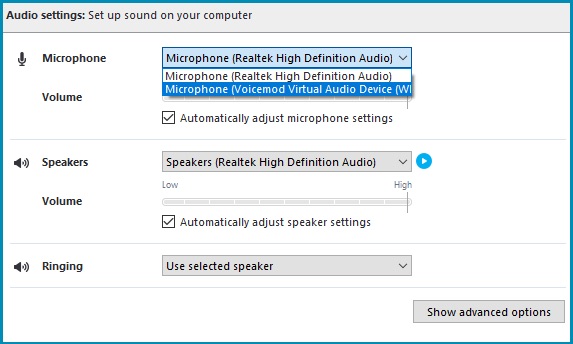 Configuring Skype Call Settings
Step 4
Make your call and start talking.
Conclusion
Even though there are dozens of other voice changing tools that are compatible with Skype, Voicemod stands out thanks to its large collection of effects and to the fact that it's so simple to handle. Hence, it's definitely worth giving it a try and making your Skype conversations a lot more fun. The question is: which of the available voice effects is your favorite? Let us know in the comments section below.
Alternative downloads